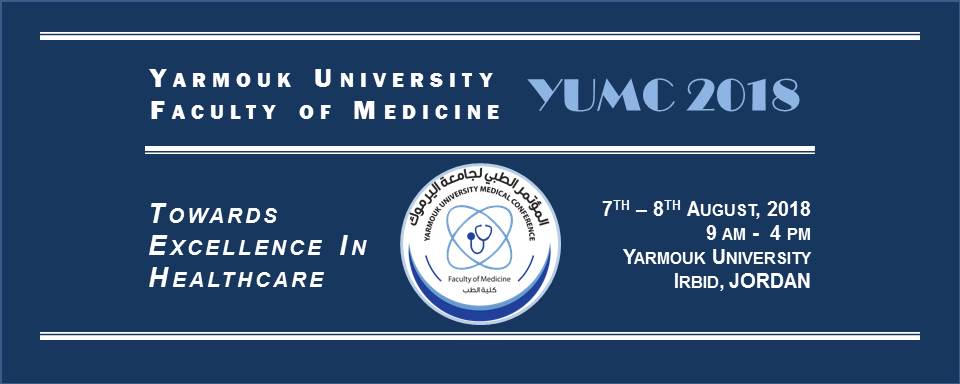 The first Yarmouk University Medical Conference (YUMC) was held on August 7th and 8th, 2018. This conference was planned to be held periodically every two years. The COVID pandemic from late 2019 through 2020 till now postponed the preparations of the second edition. We hope preparations will be resumed soon once the national restrictions on travel, gatherings and international and national conferences are over.
The first conference extended over two days. The opening ceremony was under patronage of H.E. the minister of health at that time, Prof. Mahmoud Alsheyyab, hosted by the the president of Yarmouk University and the Dean of the faculty of medicine.
Following the opening ceremony the conference started its sessions. The sessions covered six main topics:
1- Internal Medicine
2- Obstetrics and Gynecology
3- General Surgery and special surgery specialties
4- Pediatrics
5- Medical Basic Sciences
6- Students contributions
The idea of the conference started in 2017 when the organizing committee started its meetings and preparations for the conference. Then the scientific committee started the preparations of the scientific subject of the conference, contacting the key note speakers and receiving and auditing the papers.
Thanks to the collaboration of many national bodies with Yarmouk University for their contribution to the success of the conference. Ministry of Health, Royal Medical Services, Jordan Medical Council, private sector and drug industry companies worked hard with Faculty of Medicine/YU to bring this conference to light.
The YUMC 2018 program PDF file
Pictures from the Conference