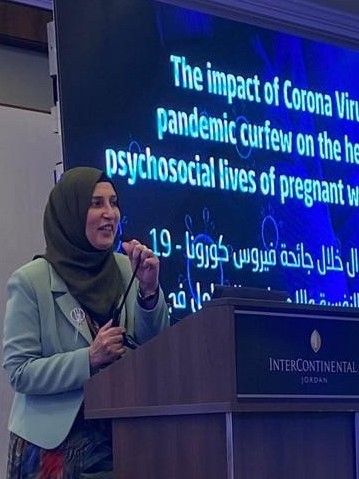 The first edition of the Female Jordanian Doctor conference, which is organized by Jordan Medical Association started in Intercontinental hotel- Amman On Wednsday Nov. 24th, 2021 under the patronage of His Highness Prince Hassan Bin Talal. The conference activites will end on Nov. 26th, 2021
Dr. Suhair Qudsieh; the Assistant Professor in the Clinical Medical Sciences Department - CMS ( Obstetrics and Gynecology) represented Faculty of Medicine and its female doctors in the conference. She presented a new sytudy about the effect of lockdown during Corona pandemic on the health of pregnant women in Jordan.
The presentation was within the (obstetrics and Gynecology) session in the second day of the conference Today-Thursday Nov. 25th, 2021.