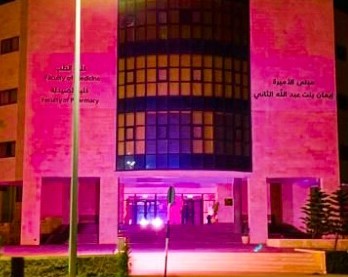 The front of the Faculty of Medicine building was illuminated with pink color starting from Thursday Oct. 28th, 2021 in solidarity with the national awareness camapign of breast cancer. It will be kept illuminated every evening till the end of campaign. this step came in response to the directives of the university president Prof. Islam Massad and in conjuction with the participation of Faculty of Medicine in the national and international awareness campaign of breast cancer.
The dean of Faculty of Medicine/YU Prof. Khaldoon Bashaireh stated that 'this step is just one of many steps and events the faculty did to participate in the campaign, and it is a way to attract the attention of the local society who pass by the building to know the importance of the screening of this disease which is a killer if discovered late and curable if discovered early. Protection of our mothers, sisters, wives and daughters is the aim of these events'.
He added: 'The other events that were carried out by our teaching and admistrative staff and our medical students were the ceremony that was held under the patronage of the YU President that included many awareness lectures and a speech of a survivor that inspired the audience and touched their hearts. Another ativity was the teaching at booths where our students answered the question of the public about this disease and the prochures and the pink ribbons that were distributed, and finally the training session of self breast examination that was held in the skills lab in the faculty campus'.