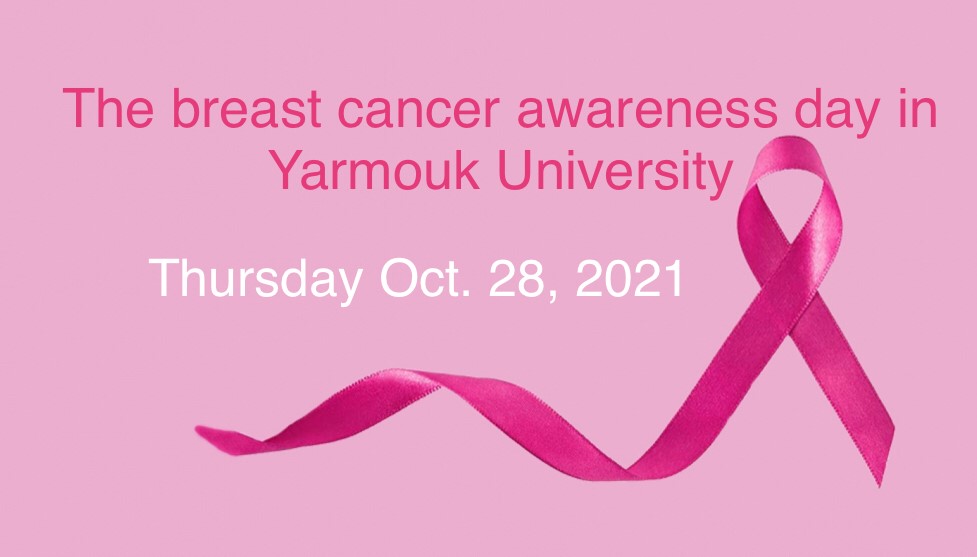 The breast cancer awareness day activities will start tomorrow Thursday Oct. 28th, 2021. Faculty of Medicine/YU activities come within the national awareness month dedicated for breast cancer. The YU activities will start at 9:00 am in a ceremony under the patronage of the president of Yarmouk University Prof. Islam Massad. After the royal anthem Dr. Asmaa Al-Mnayyes , The dean assistant for training and development and the ceremony toastmaster will present the Dean of Faculty of Medicine Prof. Khaldoon Bashaireh to give his talk, then the president of YU will be invited to give his speech , then the national program manager of breast cancer will talk to the audience and finally a survivor of breast cancer will present her experience. Following the talks six breif awareness lectures will be given by a number of Faculty of Medicine staff specialized in gynecology, oncology, pathology, radiology and oncology.
The booths of awareness run by medical students will spread in the main areas of the university throughout the day to give advices, present prochures and answer questions regarding screening, symptoms and signs and management of breast cancer. An awareness lecture about breast cancerwill be given at Yarmouk University Model School for the school students, and a training session for ladies to screen themselves personally (self screening) will be conducted in skills lab in the faculty of Medicine campus guided by our female gynecology doctors and female medical students.
The Dean of Faculty of Medicine Dr. Bashaireh invites all students, teaching and administrative staff of the university to participate in this awareness day.
TIME : starts on 9:00 am till 5:00 pm
PLACE: ceremony : 9:00 am - 11:30 am in Conferences and Seminars Building @ YU
Booths: 9:00 am till 5 :00 pm
1- Infront of the Conferences and Seminars Building @ YU
2- Infront of the students' affairs deanship building @YU
3- The Faculty of Medicine campus @ YU
Training for self screening: 11:30 am- 4:00 pm @ skills lab in the faculty of medicine campus @ YU
Your attendance is a participation