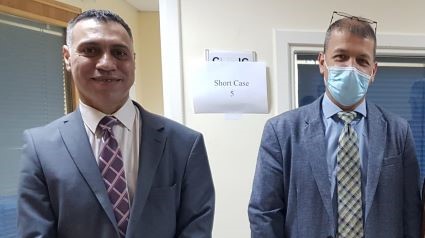 Prof. Bashaireh the Dean (to the right) , and Dr. Awwad in the Arab Board Exam loaction
Faculty of Medicine/Yarmouk university was represented in the Arab Board Exam in Orthopedics that was held from June 1st till June 3rd, 2021.
Prof. Khaldoun Bashaireh , the dean of faculty of Medicine is a member of the scientific committee of Orthopedic surgery in the Arab Board of Health Specializations, This commitees is the one responsible for organizing the Arab Board exam in Orthopedics and certifying its results. he was a committee examiner in the exam. Dr. Mohammad Akram Awwad, the assistant professor in Orthopedic surgery in CMS departemnt of Faculty of Medicine/YU and a member in the Orthopedics scientific committee in Jordanian board exam contributed as a guest examiner.
The exam was held in the sister Faculty of Medicine @ Hashemite university in the skills lab. More than eighty candidates from all over the Arab world applied for this clinical exam. The examiners were a mixture of Orthopedic surgeons and professors in Orthopedics from different Arab countries as well as orthopedic surgeons from Jordan as it hosts this edition.
In the closing ceremony of the exam, a number of arab doctors talked and thanked Hashemite University and all the staff who shared in the success of the event. Dr. Khaldoon Al-Bashaireh gave a brief speech in which he thanked the Hashemite University and its officials who hosted the three-day event especially Dr. Firas Dabboobi the vice-Dean and the assistant professor of Orthopedics in Hashemite University who was the local host representative in the organizing committee and Dr. Firas Al-Husban who was the representative of the Arab board in the oragnizing committee. Dr. Bashaireh praised the efforts done by Royal Medical Services in this exam as well as any staff member who helped in making this event successful.