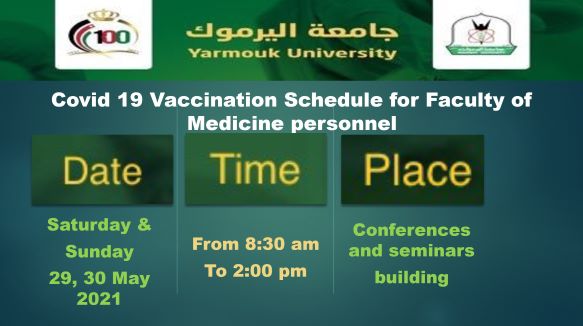 The administration of Yarmouk University via public relations department announced today May 27th, 2021 the schedule of COVID 19 vaccination for the medical students and the teaching and administrative staff in Faculty of Medicine/ YU.
The announcement is as follows:
'Yarmouk University starts the COVID 19 vaccination campaign next Saturday May 29th, 2021 that comes in collaboration with ministry of high education and scientific research and ministry of health (M.O.H.). The campaign continues for two days ( Saturday and Sunday). The targets of this announcement are medical students in the clinical years (4th, 5th and 6th years) , administrative and academic staff of Faculty of Medicine /YU and administrative and academic staff of Al-Husn and Irbid university colleges who are qualified to take the vaccine and who have already registered in the M.O.H. vaccination platform https://vaccine.jo/cvms/ .
Those who were called to get vaccinated has to head to Conferences and seminars building beside the Presidency building to get vaccinated by qualified trained nurses from Yarmouk University health center. The campaign starts at 8:30 am till 2pm in each of the campaign two days.
Mr. Mokhles AlEbbeeni , the head of public relations department and the spokesman of Yarmouk University called the family of the university to cooperate with the campaign by registering in the M.O.H. vaccination platform, and to get the vaccine. This step will be a major help to the national efforts of the COVID 19 pandemic standoff. The success of this campaign will lead to a safe return of the academic life inside the university campus. Mr. AlEbbeeni stressed on the necessity of determining the (business sector) field in the form as (Education sector) during filling the registeration form in the platform.'
The Faculty of Medicine deanship calls all our students and staff to cooperate with this campaign announced by the presidency. We expect you all to be a role model to our colleagues in the university. Let's make it happen and return back to our campus for learning and teaching as soon as possible.
Thank you so much.